If you have a DVR, we need to talk with you.
Back in March, Art For Awareness was privileged enough to take part in Clara Hughes' Big Bike Ride for Mental Health Awareness, a campaign backed by Bell Canada as part of their Let's Talk initiative. Olympic gold medalist Clara Hughes rode her bike across Canada, covering 11,000kms over 110 days, and somehow finding time to stop and speak in communities across the country, including Peterborough. Hughes spoke at Fleming College, and AFA performed our original dance/multi-media show Erasing The Stigma. It was a beautifully lucky coincidence that the whole event aligned (one that we have Kerri Davies from CMHA to thank for).
One part of the experience we hadn't counted on was the documentary film crew that arrived with Clara. While we rehearsed, the crew interviewed director Rachel Bemrose as well as ETS performer Stacey Reeds, who was gracious enough to share her story with us, allowing her experiences with mental health to become a major part of the show. Clara met with Stacey before our performance, and ended up sending her an autographed jersey. It was a wonderful moment and a beautiful memory.
Now here's the part where we need to borrow your DVR:
Bell Let's Talk Day 2015 is next Wednesday, January 28th, and the documentary featuring Stacey's story will be airing on CTV at 7pm! Amazingly, Stacey's story was chosen from a country's worth of documentary footage, and you can watch it on Wednesday (at 7pm on CTV)! Will the performance from Erasing the Stigma be featured? What about director Rachel Bemrose's interview? We don't know, but it's safe to say that we're FREAKING OUT. Thrilled and honoured doesn't even come close. It's genuinely amazing that we've played a tiny part in this whole journey.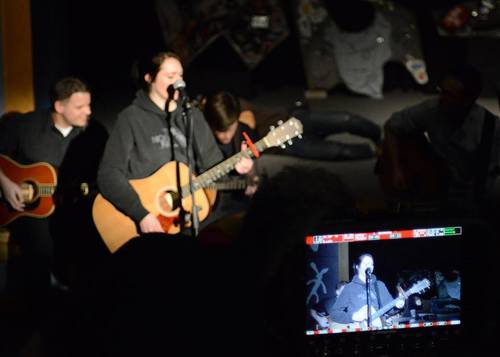 So the reason that we need your DVR is that when the documentary airs (did we mention it's on Wednesday, January 28th at 7pm on CTV?) is that we'll be at a rehearsal for RENT! Onward and upward! Get your tickets for our biggest show yet at showplace.org!